Banana Bread & Muffin Plant-Based Baking Mix Triple Bundle
Get ready to go bananas!
Regular price

Sale price

$38.97
Made with upcycled bananas, allergy-friendly ingredients and naturally sweetened with coconut sugar, this mix creates fluffy, super moist, and incredibly yummy banana bread and muffins. Treat yourself to better-for-you and the planet freshly baked goods.
*1% of all sales are donated to 1% for the Planet, an alliance of businesses, individuals, and environmental organizations tackling our planet's most pressing environmental issues.*
Key Ingredients

• Upcycled Bananas: Made from "ugly" bananas that usually get discarded, it is packed with potassium, Vitamin B6 and magnesium. Originally sourced from farmers in the US & Canada. Dehydrated, ground and milled by Outcast Foods.
•Upcycled Sunflower Protein Flour: Made from the nutritious pulp leftover from sunflower oil production, Suntein(TM) is high in protein, fiber, and potassium
• Cinnamon: Packed with powerful antioxidants, including polyphenols
Clean Label Ingredients

Gluten-Free Flour Blend (Rice Flour, Potato Starch, Tapioca Flour, Xanthan Gum, Sunflower Protein Flour*), Organic Coconut Sugar, Bananas, Banana Powder*, Baking Powder, Cinnamon, Vinegar Powder, Baking Soda, Salt
*UPCYCLED

Hooray! It's free of the Top 9 Allergens (tree nuts, peanuts, soy, wheat, dairy, shellfish, crustacean fish, sesame, eggs).
What You'll Need

Plant milk and oil. Yep, it's just that easy!
What You'll Make

12 Moist and Fluffy Banana Muffins or 1 Banana Loaf
Shipping Info

All orders ship carbon neutral via USPS or UPS approximately 2-5 business days after they have been processed. Orders above $50 automatically receive free shipping.
Hurry, only 12 items left in stock!
Share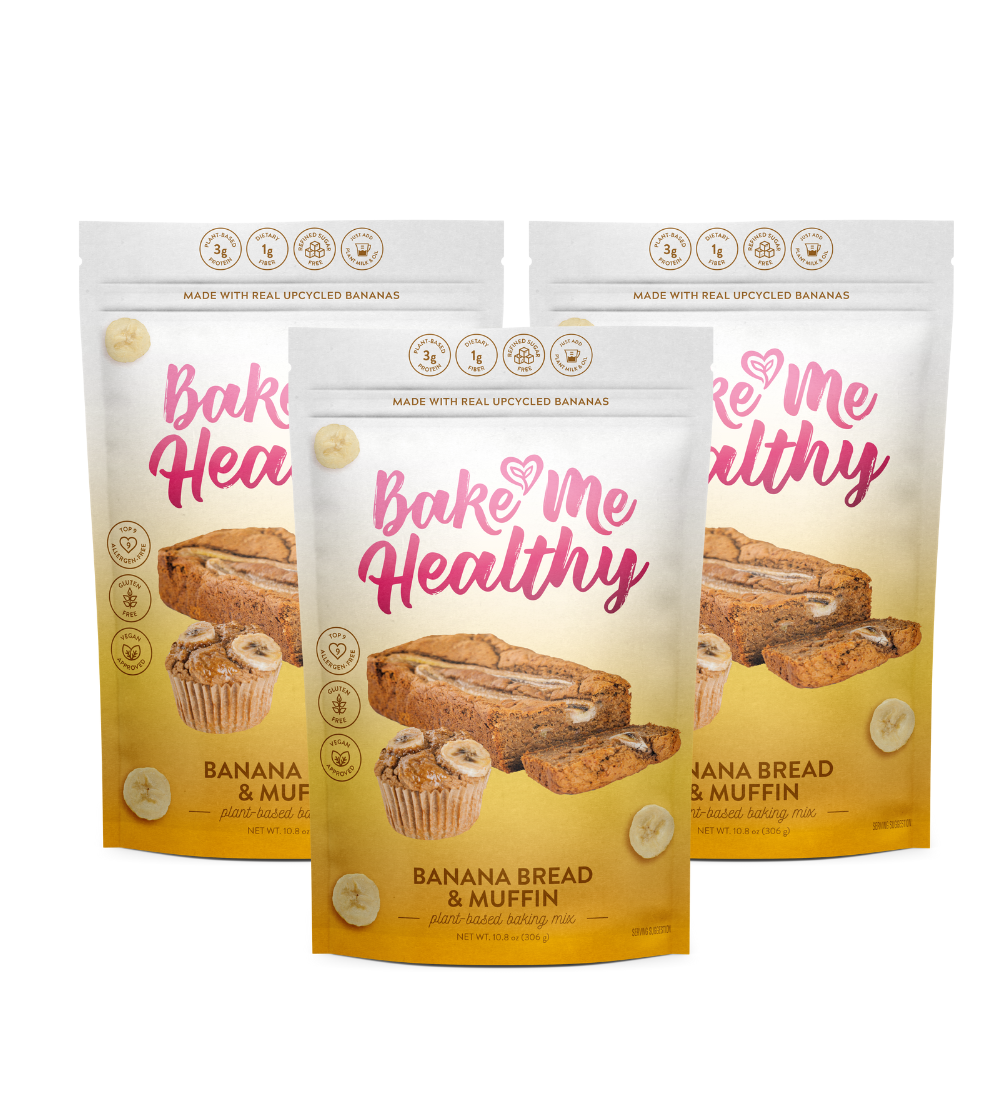 FAQs
What are upcycled ingredients?

Upcycling takes food destined for landfills and creatively finds a use that has a positive impact on our planet.
Is Bake Me Healthy allergen friendly?

You bet! All our products are free of the Top 9 Allergens (tree nuts, peanuts, soy, wheat, dairy, shellfish, crustacean fish, sesame, eggs). 
Do your products contain refined sugar?

Our products are free from refined sugar. They do contain coconut sugar, one of the world's most sustainable sweeteners according to the Food and Agricultural Organization (FAO). Plus, it comes with added benefits like iron, potassium, and zinc. 
Do your products contain artificial preservatives or colors?

Our products are free from any artificial colors, flavors, or preservatives.
What other ingredients do I need for the baking mixes?

Water, oil and/or plant-based milk. Yep, it's that easy
Do the brownies taste like coffee or cherries since they contain upcycled coffee cherry flour?

Nope, the coffee cherry flour comes from the coffee cherry fruit, not the coffee bean. The brownies don't taste like coffee or cherries, just fudgy goodness.
Do the baking mixes contain coconut?

Our baking mixes feature sustainable, organic, NON-GMO coconut sugar which does not come from coconuts. Instead, it is derived from the coconut palm tree - kind of like maple syrup.
WHAT YOU'LL MAKE